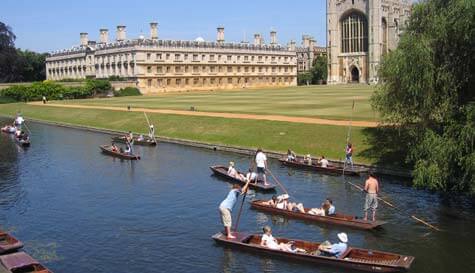 Today was also a day that I slept up late. I got to rest, and do stuff I wanted. Then we went to eat breakfast, which I ate a crispy strawberry jam and butter sandwich, and some milk. Then when my uncle went to the bathroom, BTD Battles was on the list. I wrecked on my first match, then watched Bloons TV because there wasn't time for a second match. Then I went to the bathroom and off we went! We went to King's Cross once more, and received our tickets. We then went on the train, where it was bitter cold. It was freezing. I had to read Wikipedia about Cambridge which was pretty interesting, then I wanted to read the Harry Potter spells on Wikipedia. But we already got to Cambridge! We got a white hot chocolate, then went to a department store where we found the pans in which my mom wanted: non-stick, and 28 centimeters in diameter. But we didn't get it yet. The we had to choose between sushi, curry, and Italian food. We chose the Italian restaurant. We got a truffle pasta, chippy fish and squid, steak, and chicken burger. They were okay. The restaurant was famous, called Jamie's Italian. I got an activity sheet in which there was this game where you got to choose your food (in which I didn't use because the menu in the game was unhealthy and undelicious which is not a word and was too bad. ). Then we went to this Cambridge tour with a tour guide called Tim. He was humorous. All of the tour guides on tours we went were all humorous. He brough us to St. Bene'ts' (pronounced Be-ne-DICTS) Church. There were pillow legrets of the saints, like St. John, St. Matthew, St. Peter, whatever. It was pretty coo. Then Eagle Bar, market Square, then we watched a procession of graduates from Cambridge University wearing black robes with polyester white hoods, going to the Senate House. People went to university at about 12~14 in the old times. In the old times people put stuff on the Senate House! Once in 1958 some students put a car on the Senate House! Then we went into Pembroke college chapel, then our tour's last stop was the exterior of Trinity College. We also saw a clock with a cricket on it, pretending to eat away on the clock, representing time going away. Every o'clock a chain drops into a coffin below, representing that death will soon come. We went to King's College next. Full of rich history. We also had a free audio guide from the iPhone! THe Chapel was super big (the chapel inside the College). We then had boat ride. It was relaxing, soothing, and our guide was funny Andy. He was awesome. He was the fastest rower on the river. Then we looked in a gift shop, then ate at Wasabi, a restaurant where I got katsu chicken curry, while my uncle got sushi, and together we got miso soup. He predicted the return train from Cambridge to London would disappear right in front of our eyes, It was true. We got on the next train, and wandered in Platform 9 3/4 once more, then went back home.
That is Saint John's College. I took a pic of it while punting.
That's the clock in my entry.
The cricket clock again.
A view while punting
That's Andy, our tour guide and punter or whatever you call it.
That's a view from a double-decker bus. Unfortunately, there was a roof. Fortunately, it was cold.
That's a church wall. I'm sitting on it.
That's King's College, one of the first colleges King George the something built.
That's a river in a Cambridge college. I think it is King's College, not sure.
That's a sight from a bridge, people are punting below.
People are punting below. Punting is a type of rowing your boat, but you're taking a stick, and pushing along the botton of a river or something (punt, punt, punt, your boat, gently, down the stream...)
That's a college in Cambridge but I dunno which one it is.
That's another college in Cambridge. Or is it in Oxford? I think I put the wrong pic or something...someone tell meeeeeeeeeeeeeeeeeeeeeeeeeeeee!!!!!!!!!!!!!!!!!!!!!!!!!!!
That's a view in King's College.
I am on the boat while Andy is helping us punt. I accidently photobombed that guy and his girlfriend.
That's St. John's College while we were punting.
I am next to the river that people punt on.
That's some stone tablets in inside the King's College Chapel.
That's the roof of King's College Chapel.
I am looking at the Bible, flipping through random pages.
That's an arch in the King's College Chapel.
I collected a bunch of pamphlets and leaflets on my trip in Europe. Here I am reading one.
That's the interior of the chapel in King's College.
End Of Picture Gallery: Cambridge Colleges